Construction estimating is the life of your construction business. It's the engine that runs your entire operation.
If you're planning the budget of a project, having a construction estimating service is extremely critical to the success of your project.
But most contractors and developers are too busy to estimate projects. Or some don't know how.
That's why we created our business model around helping Developers, General Contractors, and Subcontractors estimate (and win) jobs.
This guide was written for the busy contractor, owner, and developer to understand what construction estimating is, how to perform estimates, and how to model your business around something so important.
As a side note, we are a construction estimating firm so if you need help with a project, we can prepare you entire bids and estimate for you including your proposals.  Click here to learn more about our estimating service for Contractors and Subcontractors.
We know you're busy, so we're only including the most important things you need to know to estimate projects fast and efficiently.
What is Construction Estimating?
Construction estimating is the act of calculating the cost for a construction project.  The first step of every estimate is to perform the construction takeoff which measures all the quantities.  You can then assign costs to those items.
In order to build a project, you need to know the costs first to allocate a budget and secure financing.
Owners and Developers ask for bids from General Contractors so they can compare pricing and make design decisions prior to starting construction.  Sometimes a project may need financing from a bank or investor group to build.
General Contractors typically get bids from their Subcontractors so they can add up a total price, add their markup, and submit the price to the Owner.
Why is Construction Estimating Important?
Construction estimating is THE most important part of any project.
It can make or break your project, and maybe even your entire business.
I've seen companies estimate projects extremely accurately and beat competitors.  And I've also seen construction companies make mistakes in estimating that have cost hundreds of thousands of dollars.  And I've even seen some go out of business.
Estimating accurately can be the key to grow your business, or it can be the cause of the failure of your business.
This is why we take our client's projects extremely seriously when estimating.  Our clients place a lot of trust in us to price projects accurately, and we take up that responsibility by being ultra tedious.
How to Estimate a Construction Project
There are several ways to estimate a project.  If you're running a construction business, you're likely wearing a lot of hats.
You're the salesperson, estimator, project manager, supervisor, and sometimes even the guy working in the field.
The truth is you can't do it all.
We typically recommend you hire an in-house estimator or a qualified estimating firm like ours to estimate your projects.  In-house is best if you can afford it, but most contractors are smaller operations and benefit from using an estimating firm to calculate costs "as-needed".  You won't have a high payroll overhead.
But, if you still want to do it yourself, here is how to do it.
Different Estimating Methods
Using Digital Takeoff Software

Hire qualified Estimating Firm
Estimating Using the Hand Method
Estimating by hand is the traditional way to estimate projects.  It's a bit tedious and difficult to perform sometimes, especially if you're estimating a big project.
It's also the least accurate method.
This isn't the best method to use, but we though we'd mention it since this was an ultimate guide.
Step 1 – Print the Drawings
You can print the drawings at Staples, Office Depot or any print shop in your area.
We recommend print shops simply because they're going to charge you about 50% less.
Step 2 – Gather the necessary tools to perform your estimate
Here is a list of tools you can use:
Step 3 – Takeoff your project
A "takeoff" is the term for measuring the quantities.
Separate several hours to estimate your project.  Yes… that's how long it takes.  Especially using the "hand method".
Pro Tip:  Use a digital scale pen to speed up the process.  Here is what they look like: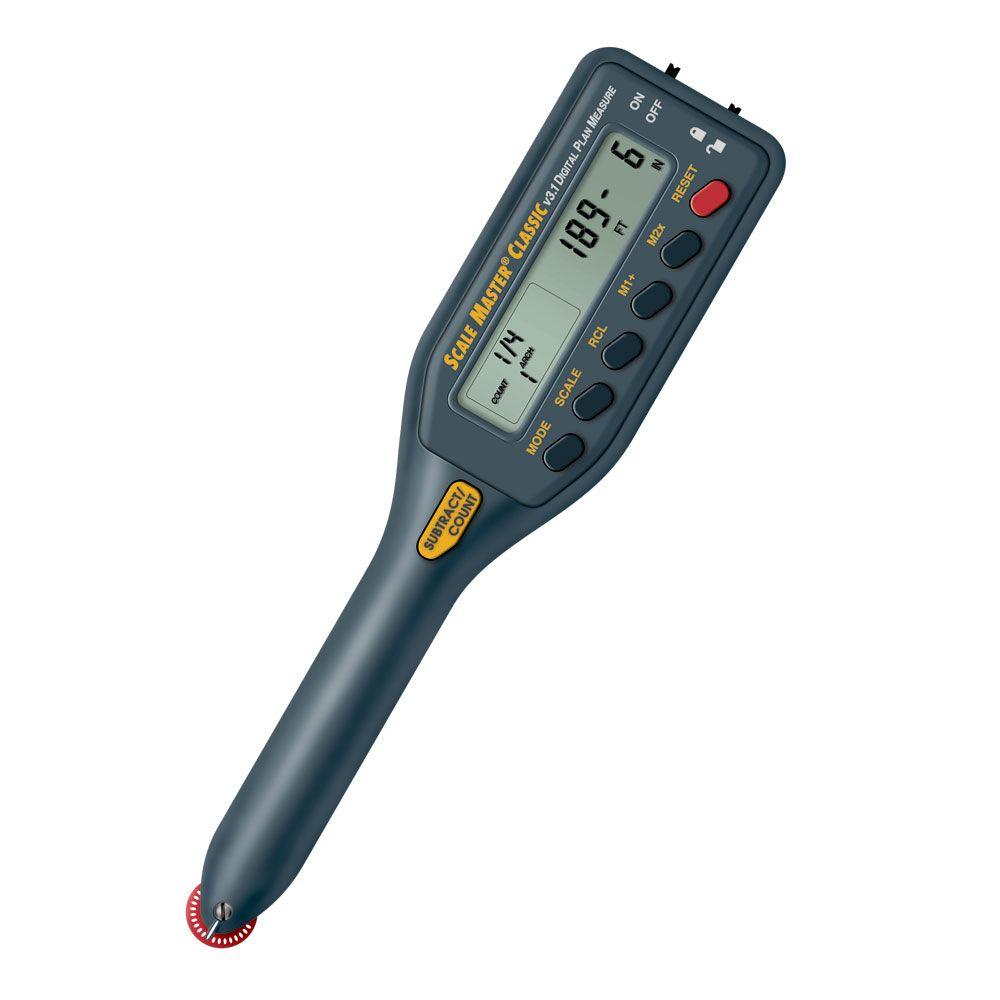 Use a Scale Ruler or Digital Scale Pen to measure your walls, ceilings, floors.
Use a highlighter and notepad to keep track of the measurements to avoid double-counting.
This is what your drawing should look like:

Step 4 – Calculate your Labor and Material Costs
I recommend you use an Excel template to calculate your project costs.  But if you're not computer savvy, you can use your notepad.
If you've been in the business for a while, you probably already know what your unit prices are.
Unit Prices
"Unit Prices" are the average cost per unit.  So if you're calculating drywall hanging, you might already know your price is $0.50 per square foot for labor.  That's a unit cost.
So you can itemize each part of the project so you can calculate your direct costs.
If you don't have standard unit costs, you can use a database like Craftsman National Construction Estimator.  We highly recommend this.
Subcontractor Markups
If you're a General Contractor, you'll need to add the markup a Subcontractor is going to charge you.
Depending on the trade and the size of the project, this can be up to 40% including their supervision and profit.  If you're a Subcontractor, you only need to add profit and supervision to your price.
The other way to calculate your costs is to determine the labor hours and multiply it by the labor rate.
Labor Hour Method
Hanging 350 drywall boards = 17.5 hours x $30 per hour
Keep in mind, if these are your direct employees, you'll need to add about 30% for payroll taxes, workers compensation insurance, unemployment insurance, etc.    You can easily do this by multiplying by 1.3.
Example:  $30/hr x 1.3 = $39/hr.  That's your actual labor rate.
Once you figure out your labor costs, try sending your plans to a material supplier to get a quote from them.
Material Pricing
Sometimes suppliers have an in-house estimating department to calculate the materials for you.
That isn't always the case though. So if you have to calculate the materials yourself, you'll have to finish up by calculating the quantities and then asking the suppliers for a quote.
Creating a material list can be a lot of work.  I don't recommend you spend any time creating a material list until you get the job.
A quick rule of thumb is to multiply your labor by 2.
Labor and materials tends to be roughly 50/50.  So if you're tight on time, this is a quick way to figure rough pricing.
One of the strategies for pricing we recommend is  to bid high and negotiate down, so don't worry about being so exact.   They are always going to ask for a discount anyway.
Hard Bid Method (for GCs)
The most common way to prepare pricing for a project is the hard bid method.
For a hard bid (also known as competitive bidding), the General Contractors get subcontractor bids. They then add their supervision, equipment rental, dumpsters, general conditions, contingency, and profit.
General Contractors keep a bid list – a list of their subcontractors – and send mass Invitations to Bid to all the trades on each project.
A great way to get Subcontractors is using services like The Blue Book or iSqFt.  You can create an account and invite Subcontractors in the area.  It's a great way to meet and start working with new companies.
To reach out to new Subcontractors, go to The Blue Book's free General Contractor platform called Oneteam.
Call them and create an account.
Once you log in, you can create a project, upload your plans, and invite Subcontractors to bid.
Create your project
Create a project through One Team (part of The Blue Book Network)
Select "Project Contacts," and select all the Trades that are involved.
And send them the Invitation to Bid.
Here is an example of what a Subcontractor will see.
The Subcontractor then accepts and submits their bid.
How to Win Hard Bids as a Subcontractor
As a Subcontractor, when you get invited to bid for a project, you're likely competing against 3 or more other Subcontractors.
Let's analyze your chances of winning the job.
If 3 GCs are bidding to be the Prime Contractor, right off the bat you only have a 1/3 chance for your GC to win the job. If your GC wins, now you're competing against 3 other Subcontractors, meaning you now have an overall chance of 1/9 to win the job.
That puts your average closing rate at only 11%. That means to win ONE job, you have to bid 11 jobs.
What if there was a way to multiply your chances by 300%?
Here's a super simple tip that almost no Subcontractor knows.
Find out who else is bidding the job and send them your bid…..
Just doing this will instantly TRIPLE your chances of winning.
If you do this, your chances jump to 33%.  Meaning if you bid this same 11 jobs, you'll win 3 or 4 of them!
Go to the plans and look at the Title Block or Title Page.  You'll find the contact info for the Architect, Owner, and Owner Representatives.
Call the Architect and ask who the other bidders are.  The Architect is often hired to perform the Contract Administration (CA) and act as an Owner Representative, so they are in charge of the bidding process and have the contact info of the other bidders.
Sending your bids to all bidders accomplishes two things:
Sending your bids to all bidders ensures the winner will have your bid.

You establish a new relationship with a new GC and get on their Bid List.
So even if you don't win this bid, you've just created relationships with two new GCs.  This will lead to tons of future opportunities.
Estimating using Digital Takeoff Software
Digital takeoff software is going to speed up your estimating.  It'll allow you to bid more jobs more accurately, which will win you more jobs.
If a hand estimate takes 5 days to perform, doing it digitally might take 3 or 4 hours.   It's a huuuge difference.
Pro Tip:   We recommend hiring an estimator to do this for you so you can focus on running your business and meeting new clients.  We can help you with this if you need it.
This is how we estimate our projects in our office. As a matter of fact, I haven't printed a set of plans in over 2 years.  I used to print them on 11×17 paper to have it as a reference and read the notes.
I now use two large 27" monitors and often have plans open on both monitors.
The two programs we in our office is:
There are tons of different programs all ranging at different price points, but we've found these are then best ones to use.
All of these basically allow you to do the same thing:  calculate square footages, linear footages, and counts.
If you're going to take off the square footage of flooring, you can use the Area Tool in Planswift.
Or if you're measuring walls, use the linear tool.
Once you finish your takeoff, export to Excel to start adding costs.
Use an Excel Spreadsheet to Finalize Your Estimate
Copy and paste those quantities into your spreadsheet.  If you don't have a spreadsheet, use ours.
Open up Excel and create some columns with these headings:
Labor Rate – this is going to be your labor unit rate.  This is your cost per square foot, linear foot, or cost per item.
Labor Cost –   Create a basic Excel formula:
It should look like this:
Material Rate – same as above but using material unit price.
Material Cost –  same as above but using material unit price.
Total – total cost per line
Create a formula adding labor and material cost.
=Labor Cost+Material Cost
Lastly, create a summary at the end.
Total Construction Costs
Contingency/Miscellaneous – this is a small percentage to add a small cushion.  This is to cover mistakes, lost production, favors in the field, etc.  We usually recommend 3%.  For remodels and complex projects, 5%.
Overhead and Profit – here are our recommended rates:
For bigger projects, you may need to reduce these percentages slightly to be competitive.
Grand Total
=Total Cost+Contingency+Profit
Include as many line items as you need.  Add supervision, project management, equipment, and any other items you need to include.
There may be times you don't have a unit price.  On a notepad, calculate the total for that line and just enter manually.  What matters is the cost in the total. It doesn't have to be a formula.
Use a Construction Estimating Firm
One of the best things a General or Subcontractor can do is hire an estimating firm to perform the entire bid for you.
We're a bit biased here because this is our specialty.  But it's important for you to know all the options you have so you can make educated decisions for your company.
An estimating firm is a great instant option especially when you're on a budget.
I always advise my clients to hire an in-house estimator when possible.  It's really the best option for every contractor.  The problem is experienced estimators are a bit expensive and require large overhead.
Working with over 700 clients, we've realized most contractors are smaller operations.  Hiring an estimating team should be your goal, but what do you do before you get there?
We can help.   Here is some info for the costs of in-house and outsourced estimating.
How Much Does an In-House Estimator Cost?
The average salary for a construction estimator varies widely on the size of company, size of projects, etc., but according to ZipRecruiter, the average construction estimator costs between $30,500 to $113,000 per year, with the national average being $68,173.
This translates to approximately $2,000 per week. That's about $8,700 per month including payroll taxes, insurance, etc.
Having an in-house estimator that is highly experienced is a great thing to have in your office, however, because construction companies tend to be smaller operations, often the costs are just too high.
When hiring an in-house employee to perform your estimating, these are additional costs that will come along with a salary:
Electricity for your office
If you pay someone $25/hr, you'll likely end up really paying about $35-40/hr just for salary plus office expenses.
If you're bidding 10-15 jobs per week, this is the way to go.  But if you're bidding less than 10 per week, we recommend hiring an estimating firm.
How Much Does an Out-Sourced Estimator Cost?
Prices among estimating firms vary widely and depend mostly on the size and scope of a particular project.
In our case, the average estimates we perform are $500-$800. But we've had many cases of larger projects priced $2,000+ because of the size and complexity.
The advantage is you can get an estimate as-needed and you don't have the high overhead.
So, to give you a realistic example, let's say you get one project per week estimated. That adds up to around $1,000-1,500 a month of estimating vs $8,000 a month you'd be spending having an in-house estimator.
So in other words, outsourcing your estimating can be less than HALF or even a quarter of the cost.
How Accurate are Outsourced Estimating Companies?
The short answer – it depends.
Our firm is a licensed General Contractor and we actually build our own projects.  We estimate our clients' projects exactly the same way we estimate our own.
We use Craftsman National Construction Estimator database as a guideline to prepare pricing by zip code.  We also add our own judgement to add additional labor as needed.
For example, building an 8-foot high wall is very different than building a 15-foot wall.  You'll need to add about 40% more on labor hours, plus you'll need a scissor lift rental.
These are the types of things we look at.
WARNING:  There are hundreds of small estimating companies that claim to be US-based, but are really an overseas operation.  Be very careful because these guys are not familiar with construction and pricing in the United States.  If you have a website with a name that says anything related to construction, you're probably getting your email spammed with people emailing you to do your estimates.  They usually have very american sounding names like "Todd Smith" or "George Jacobson".  Better to go with someone experienced and US-based.
You can use an overseas company only if you plan on spending a good amount of time reviewing. But it defeats the purpose of outsourcing it if you're going to spend a lot of time reviewing.
Focus on a US based company that has demonstrated experience as an expert.
Create Your Proposal
The last step in the process is to create your proposal.
Here is what a proposal looks like:
Your proposal should include your logo, license information, company address, email, and phone number.
Including your name, email, and phone number is critical.   It makes it easy for the project manager or estimator to contact you easily.  They may have lost your email so make it easy for them to contact you.
Hire a graphic designer to create a professional looking Microsoft Word template.   You might also want to consult an attorney for the terms and conditions.  Laws vary from state to state, so it might be a good idea.
Pro tip:  In Contract Law, a contract is defined as an offer and an acceptance.  This means your proposal is legally binding even if you don't sign a contract.  If you offer a price, and you make a mistake and they accept your offer, you're legally bound.
Description and Scope of Work
Write a detailed description of what you're including, excluding, or offering as an alternative.
Here are important items for you to include:
Brief introduction
Include a short introduction saying something like
"I AM Builders proposes to include the full construction scope per drawing dated 10/30/2019"
Drawing date and other info
Include the date of the drawings you estimated, the Addendum or Revision date and number, and any other information pertaining to the drawings.  There may be a supplementary sketch to describe something in the drawings.  Include a response to Request for Information (RFIs).  The point is to be very clear without any doubt what drawings are being used.
Inclusions
Write a detailed list of everything you're including and include a description for each item.  The contract drawings typically show a significant amount of detail so further clarification is often not required, but having some details here shows your client you thoroughly reviewed the drawings.  It also clears up any questions they might have on what you're including.
Exclusions
Write a detailed and itemized list of things you're not including in your price.  For example, most contractors exclude overtime and weekend work.
Sometimes the drawings have a conflict and you need to exclude certain items to make sure it's not confused as being part of it.
Alternates
If you are providing an alternate or substitute price, write the details here.   You might provide a less expensive option, or maybe a better quality option.
Total
Write your total here.  You might need to break down the prices.  Often bigger projects with multiple buildings will need a breakdown of pricing.   Be careful not to break it down too much.  Also, try not to show your profit numbers to your client.  They often try to nit-pick and reduce your numbers.  Sometimes less information is better.
Terms and Conditions
This is the part to consult an attorney.  We are not law experts.  Here is where you discuss your payment terms, scheduling terms, and any other miscellaneous terms you'd like to include.  You might want to add your schedule of values, how often you'd require to be paid, interest on late payments, etc.
Signature
Finally, include a signature to conclude your proposal.
Pro Tip:   Try submitting your bid very close to the bid date.  This will prevent your client from shopping around with your number.  If you submit your bid early, they can call the other company that hasn't submitted yet and tell them your number so they can beat it.
Conclusion
Estimating is the life of your business.
It's going to make your or break you.  Here you've learned all you need to know about construction estimating.
There are tons more to learn about this industry, and specific strategies to improve your close rates.
We specialize in helping Contractors and Developers estimate their jobs and win contracts.
We can help you every step of the way with your:
And Converting clients into lifetime buyers
Good luck and hope to talk to you soon.